With the purchase of Evolution Forms, you obtain a license key which is needed to unlock all features of the plugin.
The license key is displayed right after the purchase and in the confirmation email. You can also log in with your email address here and see all of your license keys: User Area - Evolution Forms
The license key can be entered in the Wordpress admin dashboard.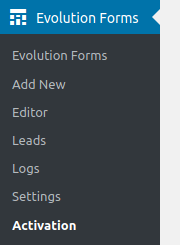 After successfully activating Evolution Forms, all features will be unlocked.
Should you experience and problems with the activation process, don't hesitate to contact us: Support - Evolution Forms